Haat Incinerators

Small Range

Haat Incinerators

Long Lasting Paint

Haat Incinerators

Packaged and Ready to Go

Haat Incinerators

Bespoke Designs

Haat Incinerators

Extensive Experience in Poultry Waste

Haat Incinerators

High Temperature Incineration
Animal, Medical and General Waste Incinerators
As a company with over 2 decades of rich experience in the incineration field, Haat has developed a range of highly efficient incinerators that work exceedingly well under difficult as well as different conditions. Systems manufactured by Haat are working in all corners of the Globe, particularly due to their rugged construction giving long equipment life, superior design leading to elimination of most problems and minimising of site work making them very easy to install and use.
The cost of neglecting the environment has never been felt more than in the last 2 decades. Rampant growth of populations, mutations of viruses, increase in drug-resistant bacteria, increased drug abuse, jumping of diseases from animals to humans, lack of awareness and treatment of clinical or medical wastes – all have had significant negative impacts on the environment.
This website gives information on the advantages of incineration and the different types of incinerators manufactured by Haat.
What
Is Incineration?
Incineration can be defined as a process which uses thermal energy to convert organic matter into flue gas, heat and ash. As compared to other methods of waste management such as sterilisation, incineration changes the chemical structure of the material being burnt and is therefore the most effective way of removing infectious pathogens.
Historically, burning infected carcasses or medical waste has been the only way to prevent the spread of disease. Today, incineration is a method by which controlled combustion of waste matter can be done with minimal environmental impact.
Incineration is the best method to control infections from spreading, to keep work areas sterile, reduce the load on landfills and enables disposal of waste at source and in a short time.
How Do
Incinerators Work?
The entire process involves waste feeding, combustion at high temperature in refractory lined chambers and emission to the atmosphere.
Incinerators can be simple, single chambered units or double chambered systems. They can also have air pollution control systems or flue gas treatment units, sometimes simply referred to as 'scrubbers' to further purify emissions. The height of an incinerator chimney is decided based on its location, proximity to other buildings, plume dispersion modelling and other factors.
What Are The Different
Types of Incinerators?
The technology or type of incinerator is usually selected based on the type of waste to be incinerated.
Systems could have static hearths, moving grates, rotary kilns, fluidised beds and could range from starved air to controlled and excess air types. Very large municipal waste to energy plants utilise moving grates, rotary kilns or fluidised beds as these are viable only when the throughput is many tonnes of waste per hour. For simple applications like animals or medical waste, static hearth incinerators work well. Large animal incinerators require special attention to fat release during burning of the carcass.
Products
Choose from our wide range of incineration models
Medium Range (100-250 kg/h)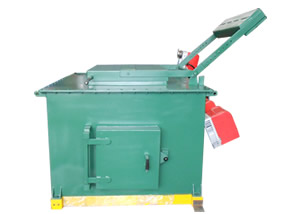 Haat's medium range of incinerators has the flexibility to be used for wastes with different heating or calorific values such as medical waste with high moisture content, pharma waste which includes expired medicines or animal wastes with high fat release. The solid sealed hearth prevents any liquid leakage and the refractory used absorbs and radiates heat, minimising fuel consumption.
Large Range (250-1000 kg/h)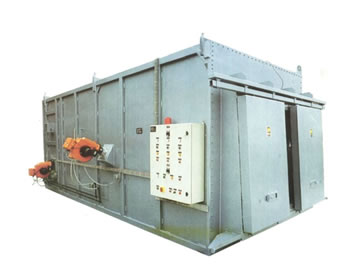 There are incinerator manufacturers who provide simple units for large applications because they don't have the correct experience or product in their range. More often than not, this leads to improper combustion, overheating of zones within the incinerator and require a lot of pre-work on the carcass prior to loading.
We Present Nothing Less Than The Best
What Is The key To
Successful Incineration?
Poorly designed incinerators of the past caused opposition to this technology as they were indiscriminately used for all material and flue gas treatment was not as efficient as it is now. Today some facilities prefer to call their waste to energy plants by other names – such as pyrolysis or plasma or gasification, but any form of burning is a type of incineration. The key to successful use of incinerators is to not make them the only solution for waste disposal, they should be used in combination with other methods to reduce waste, re-use material and recycle as much as possible. It is only the final 'rejects' organic material that should be incinerated. Non-incinerable material should never be put into an incinerator.
Waste
Heat Recovery
Waste heat can be recovered in the form of hot air, hot water and large waste to energy plants generate electricity by first converting waste heat to steam in specially designed boilers and then by passing the steam through a turbine. Incineration is the preferred mode of waste disposal in many countries - which generate power from an unending supply of garbage, thereby even making it a 'renewable' source of energy. There are other methods available such as bio gas plants, but the most effective method is incineration as it also provides the best weight and volume reduction.
Air pollution Control
& Flue Gas Treatment
The first step in ensuring clean emissions is to have enough residence time for flue gases generated within the incinerator itself. If the incinerator is designed well to have a high combustion efficiency and carbon burn out, this itself will be enough to comply with the environmental regulations of many countries. However, if emission norms are more stringent, further flue gas treatment is required. This is selected based on the limits prescribed for various pollutants which include CO, NOx, SO2, acidic gases such as HCl, dust or particulate matter, etc. The air pollution control system could range from scrubber towers to venturi types, bag filters, ceramic filters, dust collectors or acid gas scrubbers.
Benefits Of
Incineration
As incineration changes the chemical structure of the material being burnt, it is the only method which eliminates rather than 'sterilises'. History is replete with stories of the spread of disease and by trial and error; the only solution that solved the problem of infection control was incineration. Pathogens are completely destroyed and there is no way of material being re-infected as can be the case with sterilisation techniques. There have been reports of dormant viruses 'waking up' after the excavation of land where carcasses / medical wastes were landfilled. Global pandemics in the recent past such as Ebola, H1N1, Swine Flu and many others could only be quelled by incineration to contain the scourge of these viruses. The amount of ash left behind is a fraction of the original waste material and is non-toxic.