Large Range (250-1000 kg/h)
Haat`s large range of incinerators is designed for handling fairly large quantities of wastes from large hospitals and large animal farms, zoological parks etc.
There are incinerator manufacturers who provide simple units for large applications because they don't have the correct experience or product in their range. More often than not, this leads to improper combustion, overheating of zones within the incinerator and require a lot of pre-work on the carcass prior to loading.
Haat offers large animal cremators which are solid and rugged systems that can allow loading of a full sized cow or horse in one go. These have also been used for camels and are usually loaded using a winch system or a bogie hearth. Since the loading door cannot be designed for all dimensions, some separation of limbs may be required prior to loading.
Models available:
ACR/PD – Available From 250-1000 kg/h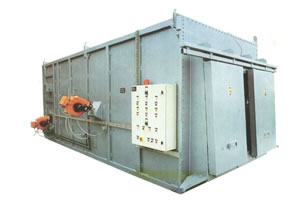 Product details
•
Suitable for both animal carcass and offal applications.
•
Fully automatic burners.
•
Panel provided with HMI.
•
Secondary chamber can be extended for increased gas dwell times.